Lot 40132 –
1876 The most significant cover of the French mail in China, showing a 10c tête-bêche in a unique combination with a Customs cds of China
Lot 40132 –
1876 The most significant cover of the French mail in China, showing a 10c tête-bêche in a unique combination with a Customs cds of China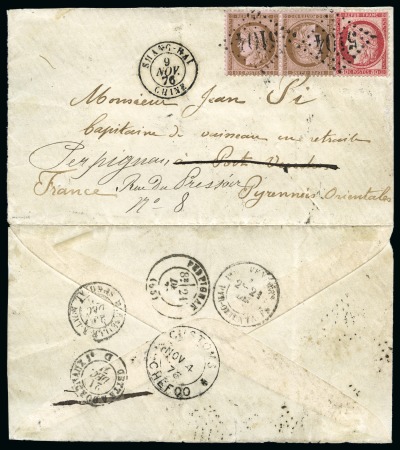 Lot 40132 –
1876 The most significant cover of the French mail in China, showing a 10c tête-bêche in a unique combination with a Customs cds of China
China » Foreign Post Offices » French Post Offices
Price realised
140'000 EUR
Estimate
10'000 – 20'000 EUR
Auction date
Wed 16 Jun 2021 at 10:00 (Europe/Zurich)
THE MOST IMPORTANT COVER OF THE FRENCH MAIL IN CHINA
1876 (Nov 4) Opened envelope to Port-Vendres, readdressed to Perpignan, dispatched at Chefoo showing "CUSTOMS/CHEFOO" cds on reverse, transferred to the French P.O. bearing 'Cérès' 80c and 1871 10c tête-bêche pair, tied by "5104" lozenges with "SHANG-HAI/CHINE" cds at left, French transits and receiving cds's on reverse; an extraordinary and unique cover as a result of the following features: the only item known bearing a tête-bêche -which is the most significant franking in the French mail in China- in conjunction with a pre-philatelic Chinese postmark; regardless of this fabulous combination, just four covers are recorded exhibiting the Chefoo cds in the stampless period of Chinese philately, this representing the earliest usage of a Customs cds in combination with France, and only about five covers are known bearing a tête-bêche (also featuring the perf. 'Empire' 80c) used in the French P.O.; the assembly of these characteristics make this, the most important item of the French mail in china, as well as a most desirable postal-history top rarity for the advanced collection of China, since this item can be considered as the most important Customs Post cover in the pre-stamp period; cert. J.F. Brun (2021), signed Pfenninger; (Yvert €25,000 for the French franking only).
Please note that we are still working on adding images for the lots. If the lot you are interested in does not have images available yet, we invite you to check again in a few days.
If you still cannot find the images you are looking for in a few days, please send us a message. Important: don't forget to mention the lot number(s).
Thank you for your understanding.