Lot 10102 –
1870 (11.12) Folded cover sent by "BALLON MONTÉ" named "Ville de Paris" from Paris to Alexandria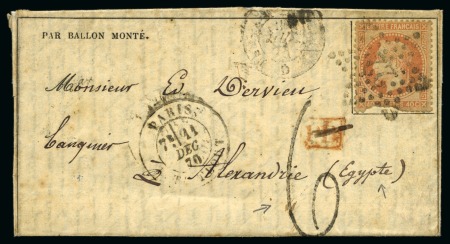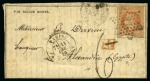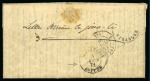 Lot 10102 –
1870 (11.12) Folded cover sent by "BALLON MONTÉ" named "Ville de Paris" from Paris to Alexandria
Egypt » French Post Offices » Alexandria
Estimate
6'000 – 8'000 EUR
Auction date
Mon 14 Jun 2021 at 14:00 (Europe/Zurich)
1870 (11.12) Folded cover sent by "BALLON MONTÉ" named "Ville de Paris" from Paris to Alexandria, franked 1867 France Laureated 40c. (fault at foot), tied Etoile 22, with PARIS / 11 DEC 70 circular datestamp alongside, manuscript of tax due 6, also framed PD, backstamped PARIS / 26 JUIL.71, PARIS ETRANGER / 28 JUIL. 71 and arrival ALEXANDRIE / EGYPTE / 4 AOUT 71 circular datestamp.
Note: This letter flew on LA VILLE DE PARIS and took off on December 11, 1870. Carried by unfavourable winds, it landed in Prussia and was captured in NASSAU (Germany). Consequently there was a long delay before the mail was sent back to Paris, to be forwarded to the various destination. It was taxed 1 1/2 times the shortfall because in the meantime the rate to Egypt had risen to 80c. since July 1, 1871, extremely rare usage with the arrival bs
Please note that we are still working on adding images for the lots. If the lot you are interested in does not have images available yet, we invite you to check again in a few days.
If you still cannot find the images you are looking for in a few days, please send us a message. Important: don't forget to mention the lot number(s).
Thank you for your understanding.