Lot 80029 – Albania » Italian Post Offices
Gjirokastër : 1942 Cover sent airmail from Argiroc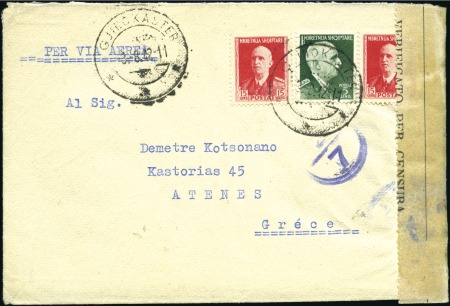 Gjirokastër : 1942 Cover sent airmail from Argirocastro to Athens bearing 1939 issue 5q. green and 15q. red (2) tied by clear strike of GJINOKASTER datestamp (3/8), with Censor label overlapping one 15q. and arrival on reverse (11/8). Scarce.
Estimate
150 EUR
Auction date
Thu 11 Oct 2018 at 14:00:00 (Europe/Zurich)
Unsold
If you have a strong interest in a specific lot and would like more information or further scans, click the below button and send us a message. Important: don't forget to mention the lot number(s).