Lot 80028 – Albania » Austrian Levant Post Offices
San Giovanni di Medua-Shëngjin : 1898 Registered c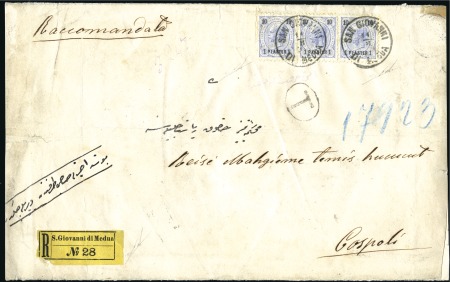 San Giovanni di Medua-Shëngjin : 1898 Registered cover sent from Shëngjin Austrian Levant Post Office to Constantinople bearing strip of three 1 piastre/10 Kreuzer tied by circular SAN GIOVANNI DI MEDUA postmarks alongside yellow & black registration label (No:28) the post office was not recognized by Ottoman Post Office for this reason Taxed on reverse by 6X1 piastre postage Due stamps and tied by all Arabic double-circle "Battal" postmarks.(Tchilinghirian fig.470).Signed Nakri.
Estimate
1'500 EUR
Auction date
Thu 11 Oct 2018 at 14:00:00 (Europe/Zurich)
Unsold
If you have a strong interest in a specific lot and would like more information or further scans, click the below button and send us a message. Important: don't forget to mention the lot number(s).