Lot 80026 – Albania » Austrian Levant Post Offices
Vlorë-Valona : 1855c, Entire letter from Triest to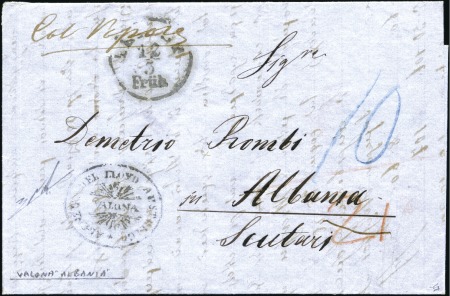 Vlorë-Valona : 1855c, Entire letter from Triest to Scutari, Albania via Valona with extremely fine strike of rare Sunburst oval AGENZIA DEL LLOYD AUSTRIACO / VALONA in black. Despatch cds of "Triest / Früh" above in black (12/3). Unrecorded in any catalogue, although Tchilinghirian & Stephen state that the Valona Agency would have received a cancel of this type in 1854 (see page 305). As far as we are aware, a unique usage. Signed Nakri.
Estimate
15'000 EUR
Auction date
Thu 11 Oct 2018 at 14:00:00 (Europe/Zurich)
Unsold
If you have a strong interest in a specific lot and would like more information or further scans, click the below button and send us a message. Important: don't forget to mention the lot number(s).