Lot 80016 – Albania » Turkish Post Offices
Selckë-Selçika karyesi : 1901 issue 1 pi. blue on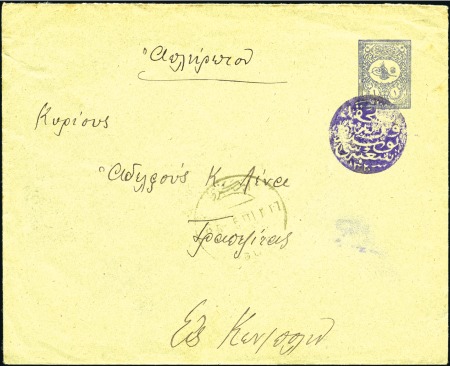 Selckë-Selçika karyesi : 1901 issue 1 pi. blue on green postal stationery envelope used to Constantinople showing all Arabic circular negative "Selçika Karyesi Posta Şubesi = Selçika Village Post Office" handstamp in violet (Coles & Walker Addendum, fig. 7) alongside bilingual "Erguiri" transit datestamp in black. Reverse with Stamboul Arrivée cds in green. Rare and very fine.
Estimate
1'200 EUR
Auction date
Thu 11 Oct 2018 at 14:00:00 (Europe/Zurich)
Unsold
If you have a strong interest in a specific lot and would like more information or further scans, click the below button and send us a message. Important: don't forget to mention the lot number(s).