Lot 80015 – Albania » Turkish Post Offices
Sarandë-Santi Quaranta : 1892 issue 20 pa. claret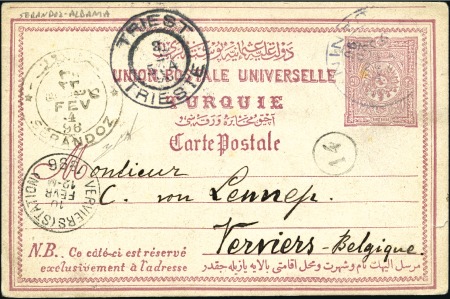 Sarandë-Santi Quaranta : 1892 issue 20 pa. claret postal stationery card, tiny nick at right not detracting, used from Janina to Belgium showing fair strike of bilingual "Janina" circular datestamp in black, with very rare bilingual with stars type "Serandoz" datestamp (Feb 4, 1896) in black. Verviers Station arrival cds at left (Feb 19). Signed Nakri ISFILA AP07.
Estimate
1'400 EUR
Auction date
Thu 11 Oct 2018 at 14:00:00 (Europe/Zurich)
Unsold
If you have a strong interest in a specific lot and would like more information or further scans, click the below button and send us a message. Important: don't forget to mention the lot number(s).