Lot 80009 – Albania » Turkish Post Offices
Korçë-Coritza 1884/91 issue 20 pa. rose on buff po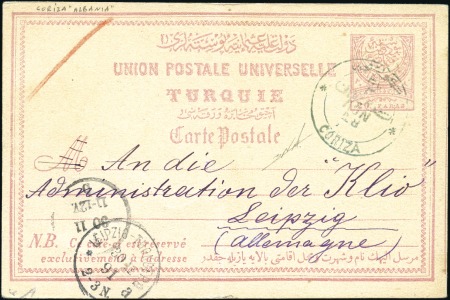 Korçë-Coritza 1884/91 issue 20 pa. rose on buff postal stationery card used in 1891 from Coritza to Leipzig showing extremely clear bilingual "Coriza" circular datestamp (Coles & Walker fig.66) well struck in blue, with date (Nov 18) Leipzig arrival cds at left (30/11) in black. Fresh and fine, a scarce cancellation. Signed Nakri.
Estimate
1'500 EUR
Auction date
Thu 11 Oct 2018 at 14:00:00 (Europe/Zurich)
Unsold
If you have a strong interest in a specific lot and would like more information or further scans, click the below button and send us a message. Important: don't forget to mention the lot number(s).