Lot 80004 – Albania » Turkish Post Offices
Shkodër-İşkodra 1892 issue 20 para claret postal s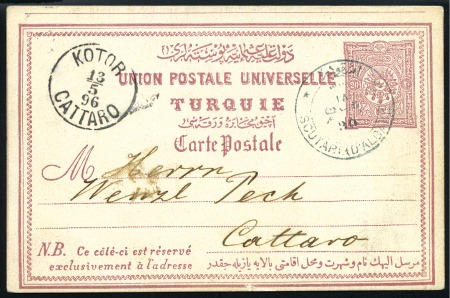 Shkodër-İşkodra 1892 issue 20 para claret postal stationery card used in 1896 from Scutari to Cattaro showing bilingual with stars type "Scutari (D'Albanie)" datestamp struck in blue-green (Coles & Walker fig. 53), with, alongside, circular "Kotor / Cattaro" arrival cds (13/5). This card is illustrated in ISFILA, volume five, on page 204. Rare and fine.
Estimate
700 EUR
Auction date
Thu 11 Oct 2018 at 14:00:00 (Europe/Zurich)
Unsold
If you have a strong interest in a specific lot and would like more information or further scans, click the below button and send us a message. Important: don't forget to mention the lot number(s).