Lot 42169 –
1910 (Jun 6) OHBMS parcel tag for a bag sent registered to the Foreign Office in London
Lot 42169 –
1910 (Jun 6) OHBMS parcel tag for a bag sent registered to the Foreign Office in London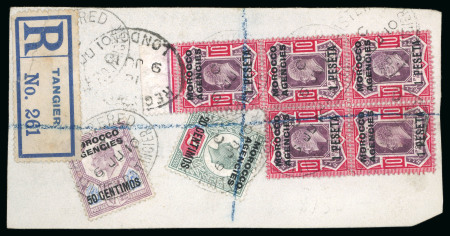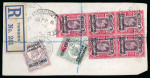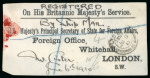 Lot 42169 –
1910 (Jun 6) OHBMS parcel tag for a bag sent registered to the Foreign Office in London
Morocco Agencies (British Post Offices) » Spanish Currency
Auction date
Tue 27 Jun 2023 at 11:00 (Europe/Zurich)
Tangier: 1910 (Jun 6) OHBMS parcel tag for a bag sent registered to the Foreign Office in London, reverse with 1907-12 20c on 2d, 50c on 5d and irregular block of five 1p on 10d, tied by Tangier registered oval ds with reg'n label adjacent, Plymouth transit and London arrival, very fine and very rare usage.
Please note that we are still working on adding images for the lots. If the lot you are interested in does not have images available yet, we invite you to check again in a few days.
If you still cannot find the images you are looking for in a few days, please send us a message. Important: don't forget to mention the lot number(s).
Thank you for your understanding.