Lot 42110 –
1912 12p on 10s mint n.h. lower right corner marginal block of 16
Lot 42110 –
1912 12p on 10s mint n.h. lower right corner marginal block of 16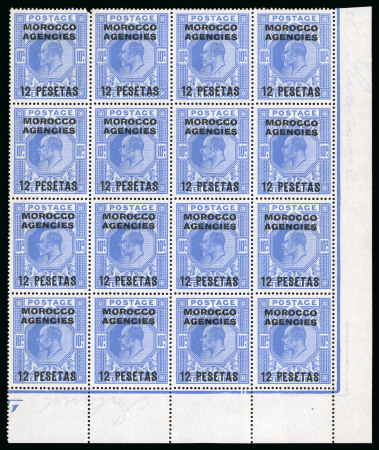 Lot 42110 –
1912 12p on 10s mint n.h. lower right corner marginal block of 16
Morocco Agencies (British Post Offices) » Spanish Currency
Estimate
2'000 – 3'000 GBP
Auction date
Tue 27 Jun 2023 at 11:00 (Europe/Zurich)
1912 Somerset House 12p on 10s bright blue mint n.h. lower right corner marginal block of 16, plate 1a showing two cuts under 7th stamp, corner perf. fault on top left stamp, a very fine and fresh multiple, an exhibition showpiece, the largest recorded of this issue and possibly of the Somerset House printing overprinted or not; ex Count Exel and T. C. Smith (including his original album page (S.G. £3'600+).
Please note that we are still working on adding images for the lots. If the lot you are interested in does not have images available yet, we invite you to check again in a few days.
If you still cannot find the images you are looking for in a few days, please send us a message. Important: don't forget to mention the lot number(s).
Thank you for your understanding.