Lot 42082 –
1907-12 15c on 1 1/2d pale dull purple and green with "1" of "15" omitted mint h.r. lower left corner marginal pair
Lot 42082 –
1907-12 15c on 1 1/2d pale dull purple and green with "1" of "15" omitted mint h.r. lower left corner marginal pair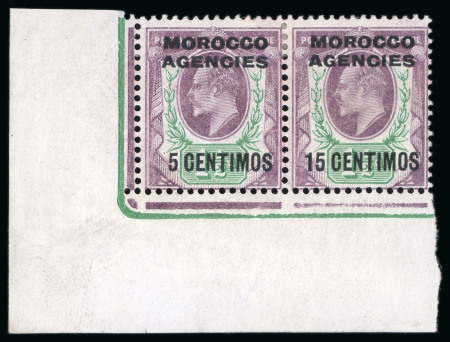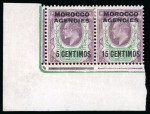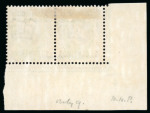 Lot 42082 –
1907-12 15c on 1 1/2d pale dull purple and green with "1" of "15" omitted mint h.r. lower left corner marginal pair
Morocco Agencies (British Post Offices) » Spanish Currency
Estimate
2'400 – 3'000 GBP
Auction date
Tue 27 Jun 2023 at 11:00 (Europe/Zurich)
1907-12 15c on 1 1/2d pale dull purple and green with "1" of "15" omitted mint h.r. lower left corner marginal pair from the lower pane of the unique sheet, very fine and fresh unique positional multiple, a major rarity of Morocco Agencies with only nine examples discovered (of which only 8 are in private hands), with pencil notation on reverse "Only 9 W.H.P." by the dealer W. H. Peckitt who handled the original sheet; cert. RPS (2014); ex Mrs Herbert Wood (S.G. £7'000).
Please note that we are still working on adding images for the lots. If the lot you are interested in does not have images available yet, we invite you to check again in a few days.
If you still cannot find the images you are looking for in a few days, please send us a message. Important: don't forget to mention the lot number(s).
Thank you for your understanding.