Lot 42081 –
1907-12 15c on 1 1/2d pale dull purple and green with "1" of "15" omitted on two mint h.r. examples in reconstructed left marginal block of four
Lot 42081 –
1907-12 15c on 1 1/2d pale dull purple and green with "1" of "15" omitted on two mint h.r. examples in reconstructed left marginal block of four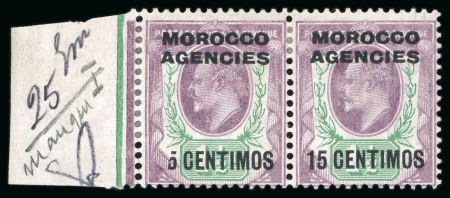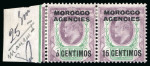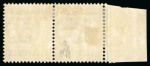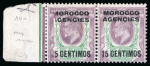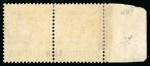 Lot 42081 –
1907-12 15c on 1 1/2d pale dull purple and green with "1" of "15" omitted on two mint h.r. examples in reconstructed left marginal block of four
Morocco Agencies (British Post Offices) » Spanish Currency
Estimate
4'000 – 6'000 GBP
Auction date
Tue 27 Jun 2023 at 11:00 (Europe/Zurich)
1907-12 15c on 1 1/2d pale dull purple and green with "1" of "15" omitted on two mint h.r. examples in reconstructed left marginal block of four made of two horizontal pairs, hinge reinforcement between stamp and marin on both, with lower pair showing wmk "E" of "POSTAGE" in margin meaning these pairs come from row 2 and 3 from the lower pane of the unique sheet, a major rarity of Morocco Agencies with only nine examples discovered; cert. BPA (1986) for top pair; top pair ex Ferrari, Sampson and Rossi, lower pair ex William Fraser (S.G. £14'000+).
Note: Includes letter from the Keeper of the Royal Philatelic Collection which says that the example in their collection is from the row below with wmk "G".
Please note that we are still working on adding images for the lots. If the lot you are interested in does not have images available yet, we invite you to check again in a few days.
If you still cannot find the images you are looking for in a few days, please send us a message. Important: don't forget to mention the lot number(s).
Thank you for your understanding.