Lot 42068 –
1907 5c on 1/2d to 12p on 10s and British Currency 1/2d to 2s6d with "SPECIMEN" horseshoe (type 17) hs, all affixed to archive ledger
Lot 42068 –
1907 5c on 1/2d to 12p on 10s and British Currency 1/2d to 2s6d with "SPECIMEN" horseshoe (type 17) hs, all affixed to archive ledger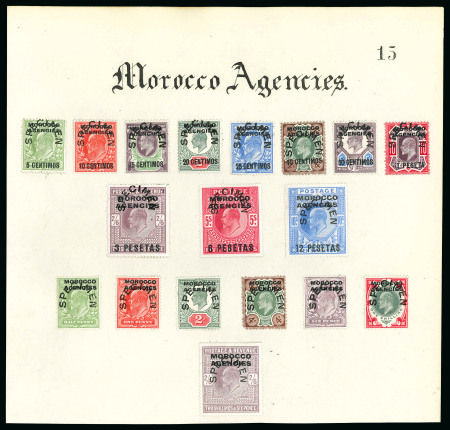 Lot 42068 –
1907 5c on 1/2d to 12p on 10s and British Currency 1/2d to 2s6d with "SPECIMEN" horseshoe (type 17) hs, all affixed to archive ledger
Morocco Agencies (British Post Offices) » Spanish Currency
Auction date
Tue 27 Jun 2023 at 11:00 (Europe/Zurich)
1907 5c on 1/2d to 12p on 10s set of 11 and British Currency 1/2d to 2s6d set of 7 (both sets excl. the later 4d orange) with "SPECIMEN" horseshoe (type 17) hs, all affixed to archive ledger with ornate "Morocco Agencies" title and "15" at top right, probably from a official reference collection created by the Inland Revenue (ex Grosvenor May 2007 which had similar lots with the majority being GB which were similarly affixed to sheets with an official embossed crest).
Please note that we are still working on adding images for the lots. If the lot you are interested in does not have images available yet, we invite you to check again in a few days.
If you still cannot find the images you are looking for in a few days, please send us a message. Important: don't forget to mention the lot number(s).
Thank you for your understanding.