Lot 42004 –
1891 (Feb 22) envelope endorsed "Postage prepaid in cash" and initialled "R.L" at top right by Postmaster Roque Lyons
Lot 42004 –
1891 (Feb 22) envelope endorsed "Postage prepaid in cash" and initialled "R.L" at top right by Postmaster Roque Lyons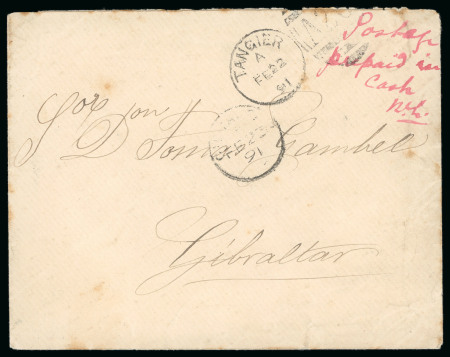 Lot 42004 –
1891 (Feb 22) envelope endorsed "Postage prepaid in cash" and initialled "R.L" at top right by Postmaster Roque Lyons
Morocco Agencies (British Post Offices) » Gibraltar Used in Morocco
Estimate
1'000 – 1'500 GBP
Auction date
Tue 27 Jun 2023 at 11:00 (Europe/Zurich)
1891 (Feb 22) envelope endorsed "Postage prepaid in cash" and initialled "R.L" at top right by Postmaster Roque Lyons, with Tangier "A26" duplex and Gibraltar arrival, some minor tone spots, fine and unique cover from Tangier from when the Post Office ran out of 5 and 10 centimos stamps, a rarity of the Gibraltar P.O. in Morocco (see "The British Postal Service in Morocco 1749-1906" by Richard Garcia, p.142).
Note: On Friday 13th February 1891, stocks of the 5 and 10 centimos ran out at Gibraltar. Fresh supplies arrived on Saturday 21st February. In the meantime, the Gibraltar Postmistress issued the following instruction in case Tangier also ran out of low value stamps: "As a temporary arrangement should your stock of 5 and 10 centimos stamps become exhausted, and pending receipt of a fresh supply, postal matter bearing such rate may be accepted at your office on prepayment in cash and such postal matter if addressed to Gibraltar or other places in Morocco maybe be forwarded to destination marked and initialled by you as fully prepaid. The postage thus collected with be remitted to this Department with the postages collected in cash on charged letters on delivery".
Please note that we are still working on adding images for the lots. If the lot you are interested in does not have images available yet, we invite you to check again in a few days.
If you still cannot find the images you are looking for in a few days, please send us a message. Important: don't forget to mention the lot number(s).
Thank you for your understanding.