Lot 40913 –
1941-44, 2 shilling, complete unexploded booklet, black
Lot 40913 –
1941-44, 2 shilling, complete unexploded booklet, black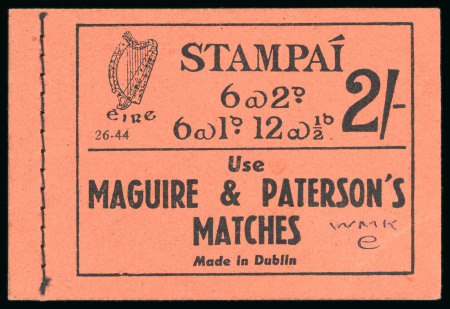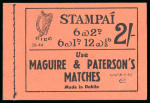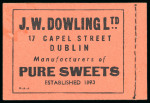 Lot 40913 –
1941-44, 2 shilling, complete unexploded booklet, black
Ireland » Booklets
Auction date
Mon 26 Jun 2023 at 14:00 (Europe/Zurich)
1941-44, 2 shilling, complete unexploded booklet, black on red front cover with larger Harp above "éire" (Irish Republic), back cover advertising J.W.Dowling Ltd, contains twelve 1/2d and six 2d in panes of six, six 1d stamps in a pane of six, advertising interleaving pages, showing serial number 26-44, fresh, never hinged mint, very fine and rare. Hibernian HB5; from €2400.
Please note that we are still working on adding images for the lots. If the lot you are interested in does not have images available yet, we invite you to check again in a few days.
If you still cannot find the images you are looking for in a few days, please send us a message. Important: don't forget to mention the lot number(s).
Thank you for your understanding.