Lot 50355 –
1868 (Aug 5) mourning envelope from Ismalia to France, with Suez Canal Co. and France mixed franking
Lot 50355 –
1868 (Aug 5) mourning envelope from Ismalia to France, with Suez Canal Co. and France mixed franking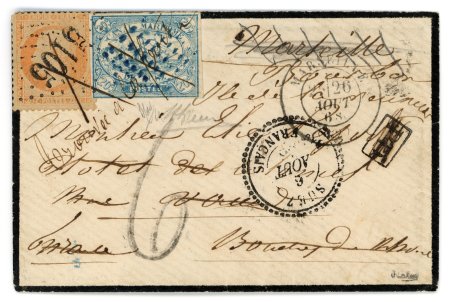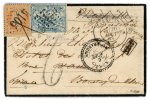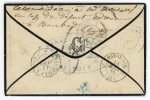 Lot 50355 –
1868 (Aug 5) mourning envelope from Ismalia to France, with Suez Canal Co. and France mixed franking
Egypt » Egypt Suez-Canal Company
Price realised
46'000 EUR
Estimate
20'000 – 30'000 EUR
Auction date
Tue 27 Jun 2023 at 14:30 (Europe/Zurich)
1868 (Aug 5) mourning envelope from Ismalia to France, reverse with oval blue "CANAL MARITIME / DE SUEZ" cachet, franked with Suez Canal Company 20c, very close to good margins, cancelled by pen cross and blue lozenge of dots, paying the Suez Canal Co. postage to Suez, and franked in combination with France 1862 40c tied by pen cross and "5015" numeral of Suez, paying the rate to France, with Suez despatch adjacent, carried by the "Said" to Marseille and put aboard the Marseille-Lyon T.P.O. where it was disembarked at Avignon, undelivered and redirected to Marseille, where it was again undelivered and seemingly placed in a box for returned letters, with ms "Trouvée à la boite" (found in the box) written across the stamps, when eventually the sender's note on reverse was spotted (in case the recipient had already left to Réunion) and re-forwarded 9 days later to Réunion, with stamps cancelled in pen to show that they weren't valid and "PD" erased, no arrival but with "6" decimes charge hs denoting double to 30c rate to pay; one of only 21 recorded covers/fronts with the Suez Canal Co. issues, with this being a unique combination cover and the only usage of the Suez Canal Co. stamp on a complete cover sent abroad (with the only comparable item being a front to France with the same franking), a highly important postal history rarity for the Egypt or Private Ship Letter stamp connoisseur; signed Holcombe and Calves, cert. Holcombe (1991) and Behr (2006); ex Antonini (DF Dec 1982, CHF82'000).
Please note that we are still working on adding images for the lots. If the lot you are interested in does not have images available yet, we invite you to check again in a few days.
If you still cannot find the images you are looking for in a few days, please send us a message. Important: don't forget to mention the lot number(s).
Thank you for your understanding.