Lot 20027 – Romania » Postal History » Principality of Wallachia » Cyrillic Post Handstamps
RIMNICU SARAT: 1860 (10.8) Postal manuscript bearing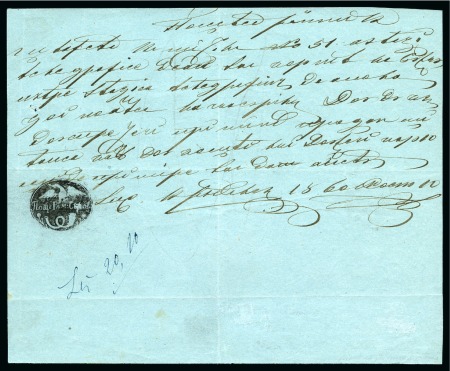 RIMNICU SARAT: 1860 (10.8) Postal manuscript bearing very clear decorative ornate Cyrillic full negative oval seal with inscription "POST: RIM:SARAT", depicting Post Horn, seal applied by lampblack, document being a receipt for 20 Lei and 10 Parale – carrier's fee for Telegraph dispatch, (Dragomir type SV56 – 6R; see # 14 page 30), extremely fine and scarce
Expertise. signed Heimbüchler
Note: Full translation of the document may be viewed on line
Post ………..
The couriers under No. 51 started towards the telegraphic station in Buzeu
on Thursday nigh at two after twelve hours receiving payment with tax for
two posts twenty lei and 10 parale, and this confirms the receipt
Post of Rimnicu Sarat signature 1860 October 10
Estimate
300 – 400 EUR
Auction date
Wed 5 Jun 2019 at 10:00:00 (Europe/Zurich)
Sold for EUR 650
Please note that we are still working on adding images for the lots. If the lot you are interested in does not have images available yet, we invite you to check again in a few days.
If by May 20th 2019 you still cannot find the images you are looking for, please send us a message. Important: don't forget to mention the lot number(s).
Thank you for your understanding.