Lot 20007 – Romania » Postal History » Principality of Moldavia
1851 (17.2) Postal order (Inam): Decorative, pre-printed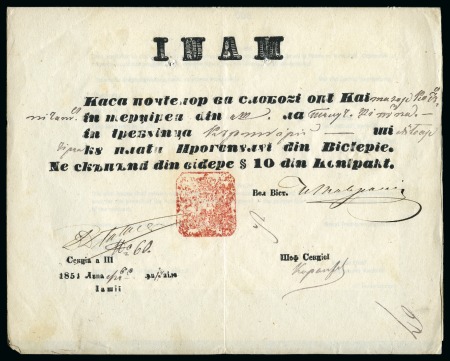 1851 (17.2) Postal order (Inam): Decorative, pre-printed form requesting Casa Postelor (Post House) to release eight horses to one Major Coenicianul for travel from Jassy to Tecuci and Putna and back, for the benefit of the Administration. It bears a large, ornate octagonal seal showing Moldavian coat of arms – very fine, attractive and scarce
Note: Full translation of the document may be viewed on line.
Document translation:
INAM
The post house shall release eight horses to Major Coenicianul for travelling from Jassy to Tekuchi and Putna and back for the benefit of the Administration and with payment of the progon from the Treasury. Not missing art. 10 of the contract. (square, red stamp with the Moldavian coat of arms)
Great Treasurer (signature)
(signature)
No. 60
Section III
Section Chief
1851, the month of February, day 17 (signature) Karanfil
Jassy
67 (manuscript)
Estimate
150 – 200 EUR
Auction date
Wed 5 Jun 2019 at 10:00:00 (Europe/Zurich)
Sold for EUR 360
Please note that we are still working on adding images for the lots. If the lot you are interested in does not have images available yet, we invite you to check again in a few days.
If by May 20th 2019 you still cannot find the images you are looking for, please send us a message. Important: don't forget to mention the lot number(s).
Thank you for your understanding.