Lot 20005 – Romania » Postal History » Principality of Moldavia
1848 (1.4) Postal order (Inam): Decorative, pre-printed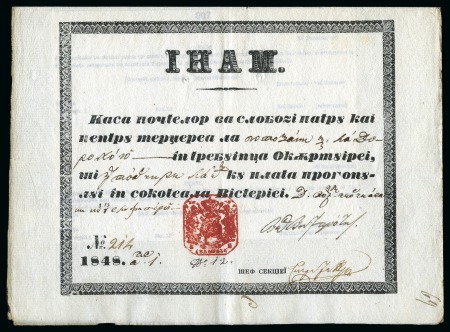 1848 (1.4) Postal order (Inam): Decorative, pre-printed form requesting Casa Postelor (Post House) to make four horses available to Mr. Postelnic (archaic for a high level boyar, member of the Lord's Council) Gheorghe Asachi (a very well known Moldavian intellectual and politician of the time) and a servant, for travel to Botushani and Dorohoi. It bears a large, ornate octagonal seal showing Moldavian coat of arms – very fine, attractive and scarce
Note: Full translation of the document may be viewed on line.
69 (manuscript)
INAM.
The post house shall release four horses for travelling to Botoshani and Dorohoi for the benefit of the Adminstration and return to Jassy with the payment on the account of the Treasury. Mr. Postelinc Gheorghi Asachi and a servant.
No. 214 (red, square stamp with the Moldavian coat of arms)
No. 214 (signature) Great Treasurer
1848. April 1 No. 12 Section Chief (signature)
Estimate
150 – 200 EUR
Auction date
Wed 5 Jun 2019 at 10:00:00 (Europe/Zurich)
Sold for EUR 280
Please note that we are still working on adding images for the lots. If the lot you are interested in does not have images available yet, we invite you to check again in a few days.
If by May 20th 2019 you still cannot find the images you are looking for, please send us a message. Important: don't forget to mention the lot number(s).
Thank you for your understanding.