Lot 20002 – Romania » Postal History » Principality of Moldavia
1841 (21.1) Postal coach order (Podorojne) showing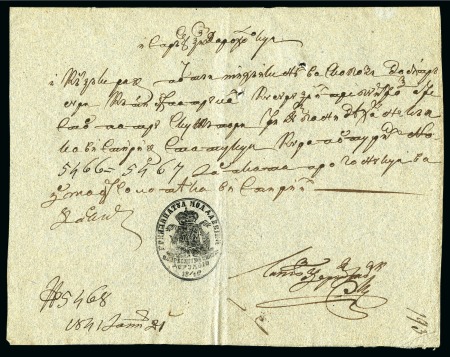 1841 (21.1) Postal coach order (Podorojna): Manuscript calligraphed in Cyrillic on thick, woven paper by the Ispravnicie (administration) of the Dorohoi County directing the Chancellery of the Mihaileni Post to make horses, coach and coachmen available for salary transportation. Document shows a large ornate decorative black seal reading "Ispravnicia of the Dorohoi County, Principality of Moldavia, 1840". A superb and clear strike, a rare document not yet seen on the philatelic market
Note: Ispravnicie (singular) or Ispravnicii (plural) being the equivalent of "prefecture" or "administration" of a certain, limited territory/county
Document translation:
Ispravnicia (administration) of Dorohoi – 193
The Chancellery of the Mihaileni post will release two coaches with four horses each and the necessary coachmen to the four employee who carry the salary money from the State Treasury under report No. 5466 (and) 5467 and the payment of the progon (coaches, horses, coachmen) will be on the account of the Treasury
(signature) No. 5468 1841 January 21
(seal) Principality of Moldavia, Ispravnicia of the Dorohoi County, 1840
Note: full translation of the document may be viewed on line.
Document translation:
Ispravnicia (administration) of Dorohoi 193
The Chancellery of the Mihaileni post will release two coaches with four horses each
and the necessary coachmen to the four employee who carry the salary money from
the State Treasury under report No. 5466 (and) 5467 and the payment of the progon
(coaches, horses, coachmen) will be on the account of the Treasury
(signature) No. 5468 1841 January 21
(seal) Principality of Moldavia, Ispravnicia of the Dorohoi County, 1840
Estimate
200 – 300 EUR
Auction date
Wed 5 Jun 2019 at 10:00:00 (Europe/Zurich)
Sold for EUR 1'100