Lot 60106 –
SARAWAK 1923 (UNUSED) SG74c/ca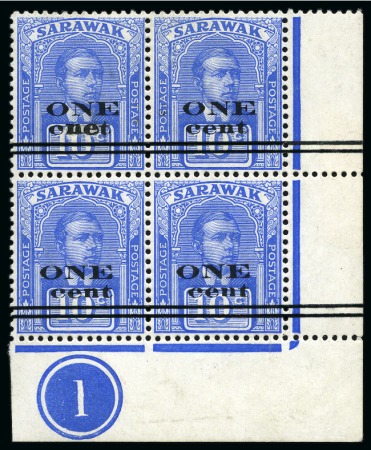 Lot 60106 –
SARAWAK 1923 (UNUSED) SG74c/ca
Sarawak
Estimate
3'400 – 4'600 EUR
Auction date
Thu 6 Jun 2019 at 16:00 (UTC)
Description
SARAWAK
1923 1c on 10c bright blue, second printing with bars 3/4mm apart, lower right corner block of 4 with plate number, showing the error with "en" of "cent" scratched out and "ne" overprinted on R9/5, very fine o.g., a lovely example of the remarkable variety, which resulted from the misguided belief of the printer that the second setting should reproduce the first exactly, a great rarity, only 13 existed, with pencil signature of the noted US dealer Eugene Klein on reverse of right margin
1923 1c on 10c bright blue, second printing with bars 3/4mm apart, lower right corner block of 4 with plate number, showing the 'error' with 'en' of 'cent' scratched out and 'ne' overprinted on R9/5, very fine o.g. A lovely example of this remarkable variety, which resulted from the misguided belief of the printer that the second setting should reproduce the first exactly. A great rarity, only 13 existed. With pencil signature of the noted U.S. dealer Eugene Klein on reverse of right margin.
Please note that we are still working on adding images for the lots. If the lot you are interested in does not have images available yet, we invite you to check again in a few days.
If you still cannot find the images you are looking for in a few days, please send us a message. Important: don't forget to mention the lot number(s).
Thank you for your understanding.