Lot 60057 – Germany » German Empire » German Empire, 1933/45 Third Reich
BLOCK 5: Never hinged miniature sheet, IMPERFORATE,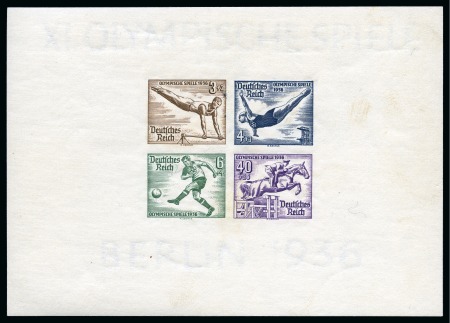 1936 Berlin IMPERFORATE mini sheet (Mi. Block 5) mint nh, slight stains, a very rare block and a major German Empire rarity (Mi. €20'000)
Michel Block 5
Estimate
7'000 – 8'000 EUR
Auction date
Thu 6 Jun 2019 at 18:00:00 (Europe/Zurich)
Sold for EUR 6'000
Please note that we are still working on adding images for the lots. If the lot you are interested in does not have images available yet, we invite you to check again in a few days.
If by May 20th 2019 you still cannot find the images you are looking for, please send us a message. Important: don't forget to mention the lot number(s).
Thank you for your understanding.