Lot 41267 – Persia » Collections, Lots etc.
1899-1930 Old-time collection on well-filled album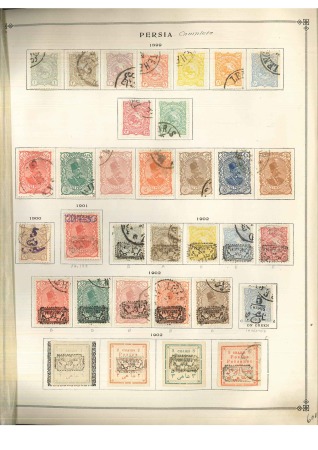 1899-1930, Old-time collection on well-filled album pages, with hundreds of mint and used stamps from late 19th century to 1920s, including 1899 10k blue Mozaffar-eddin used (Scott #150), 1902 provisoire handstamps on 'Chahis' 1ch, 2ch and 3ch mint (#235/237, cat. $1100), red lion overprints on type 1 chahis complete to 50kr used (#247/257, cat. $860), 1906 handstamps complete mint (#422/427, 422a, cat. $420), etc, through to parcel posts of 1915 complete genuine overprints mint (#Q19/Q35), officials and much more.
Estimate
300 – 500 EUR
Auction date
Thu 6 Jun 2019 at 10:00:00 (Europe/Zurich)
Unsold
Please note that we are still working on adding images for the lots. If the lot you are interested in does not have images available yet, we invite you to check again in a few days.
If by May 20th 2019 you still cannot find the images you are looking for, please send us a message. Important: don't forget to mention the lot number(s).
Thank you for your understanding.