Lot 41023 – China » Chinese Empire (1878-1949) » Chinese Republic
1938 (Jul 16) Italian Navy envelope sent from China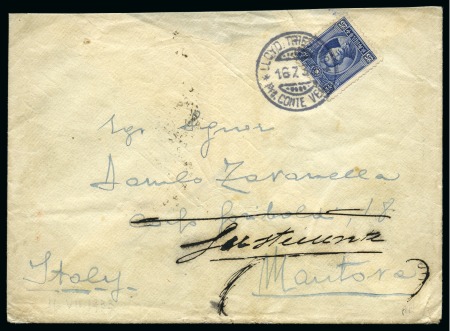 1938 (Jul 16) Italian Navy envelope sent from China to Italy with Dr Sun 25c tied by Lloyd Triestino / Conte Verde cds, arrival bs, fine
Estimate
150 EUR
Auction date
Thu 6 Jun 2019 at 10:00:00 (Europe/Zurich)
Unsold

Please log in once in order to make offers on unsold lots.
Please note that we are still working on adding images for the lots. If the lot you are interested in does not have images available yet, we invite you to check again in a few days.
If by May 20th 2019 you still cannot find the images you are looking for, please send us a message. Important: don't forget to mention the lot number(s).
Thank you for your understanding.