Lot 10541 – Olympics » 1936 Berlin » Special Postmarks
1936 Berlin "Olympic Bell" pictorial cancellation collection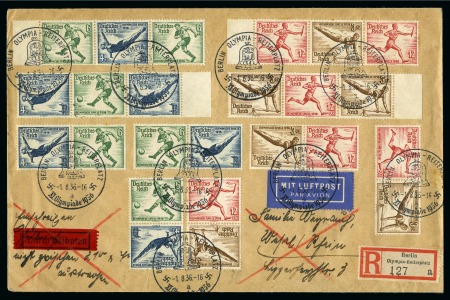 1936 Berlin "Olympic Bell" pictorial cancellation collection incl. Stadion (37, one registered with matching reg label + 1 roller cancel), Deutschlandhalle (11, one registered with matching reg label), Schwimmstadion (6), Fahrbares Postamt (17), Olympisches Dorf (16 + 2 roller cancels), Olympia-Stadion (Presse) (8), Int. Sportstudenten-Lager (5), Olympia Reiter-Platz (5), Int. Kanulager Müggelsee (7 + 1 roller), Ausstellung Deutschland (5), Olympialager Heerstrasse (10 + 1 roller cancel), KdF Stadt (11), Berlin-Grunau Regattabahn (16 plus 1 roller cancel), Pressehauptquatzer (8 + 1 roller cancel), other cancels incl. Kiel pictorial (7), Kiel Pressepostamt (1), Olympische Spiele slogan cancel (5), Olympiade-Segeln" slogan cancel, mostly duplication with 3pf+2 Olympic frankings, plus a few better items incl. Pressehaupquatier reg. cover with set, Olympic Village reg. cover with set sent by airmail, large cover sent reg. from Olympia-Reiterplatz with se-tennant pairs and strips, "Olympia-Postbüro" official envelope with Olympisches Dorf cancel and s/l hs, plus five Garmisch covers, etc.
Estimate
300 – 500 EUR
Auction date
Tue 4 Jun 2019 at 14:00:00 (Europe/Zurich)
Sold for EUR 600
Please note that we are still working on adding images for the lots. If the lot you are interested in does not have images available yet, we invite you to check again in a few days.
If by May 20th 2019 you still cannot find the images you are looking for, please send us a message. Important: don't forget to mention the lot number(s).
Thank you for your understanding.