Lot 10166 – Olympics » 1912 Stockholm
Jean Bouin (5000m silver medal winner) collection written up ith die proof, epreuve deluxe etc.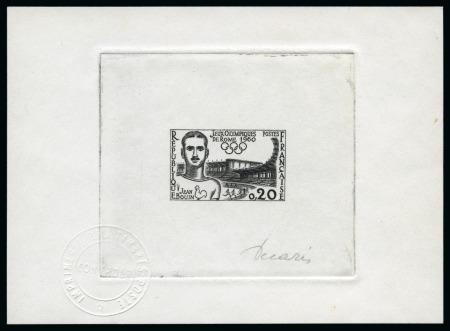 Jean Bouin (5'000m silver medal winner) collection written up on 3 album pages with two pages focussed on the France 1960 issue incl. sunken die proof in black signed by the engraver Decaris, epreuve deluxe in issued colour, imperf. marginal colour trial in issued colours, vert. strip of three in 3 different singular colours, and picture postcard of him,
Estimate
150 EUR
Auction date
Tue 4 Jun 2019 at 10:00:00 (Europe/Zurich)
Unsold
Please note that we are still working on adding images for the lots. If the lot you are interested in does not have images available yet, we invite you to check again in a few days.
If by May 20th 2019 you still cannot find the images you are looking for, please send us a message. Important: don't forget to mention the lot number(s).
Thank you for your understanding.