Lot 42473 – Italian States » Naples
1861 2gr Bright Ultramarine Blue, large even margins, tied by Lecce cds to cover to Brindisi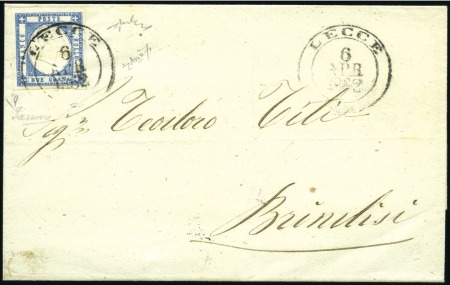 1861 2gr Bright Ultramarine Blue, large even margins, tied by Lecce cds (6 APR. 1862) to cover to Brindisi, scarce shade in high quality, extremely fine, signed Sassone, E. Diena, Avanzo, etc.
Sassone 20f
1861 2gr azzurro oltremare vivo, ampissimi margini, annullato tramite bollo grande di Lecce (6 APR. 1862) su lettera diretta a Brindisi, tonalità scarsa in ottima qualità, estremamente bello
Estimate
240 EUR
Auction date
Thu 6 Jun 2019 at 15:00:00 (Europe/Zurich)
Unsold
Please note that we are still working on adding images for the lots. If the lot you are interested in does not have images available yet, we invite you to check again in a few days.
If by May 20th 2019 you still cannot find the images you are looking for, please send us a message. Important: don't forget to mention the lot number(s).
Thank you for your understanding.