Lot 42316 – Danish West Indies » British Post
1865Envelope from St.Thomas to Bordeaux,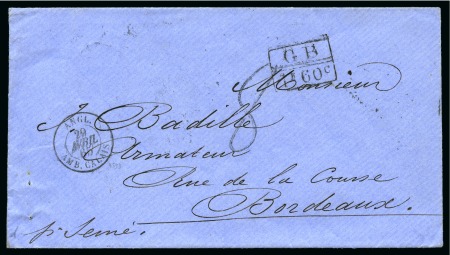 1865 Envelope from St.Thomas to Bordeaux, reverse bears "no letter code" ST-THOMAS AP13 65, London transit AP28 cds and BORDEAUX 30 AVRIL 65 arrival, boxed GB 1F60 accountancy marking on face, very fine
Estimate
150 EUR
Auction date
Thu 6 Jun 2019 at 12:00:00 (Europe/Zurich)
Sold for EUR 160
Please note that we are still working on adding images for the lots. If the lot you are interested in does not have images available yet, we invite you to check again in a few days.
If by May 20th 2019 you still cannot find the images you are looking for, please send us a message. Important: don't forget to mention the lot number(s).
Thank you for your understanding.