Lot 50453 – Indian States » Soruth
1864-1938 Specialised collection on album pages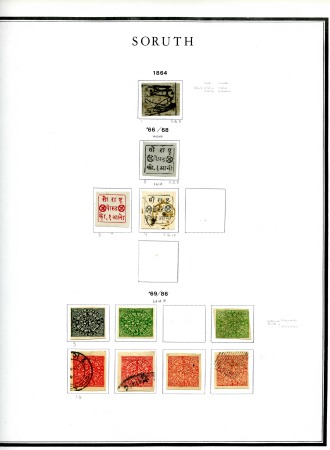 1864-1938 Specialised collection on album pages, starting with the handstamped watercolour 1a on wove paper used (SG.2, cat. £300), the Nitiprakash press issues incl. 4a used (SG.15, cat. £500) and a 1a red on blue laid paper unlisted in SG. Then an extensive range of types on the 1870s and 1880s 1a and 4a issues imperf and perf, followed by the surcharges, 1920s Nawab portraits incl. 3p mauve imperf strip of three from corner of the sheet, 1929 pictorials complete mint (SG.49/56), serifed 'Sarkari' official overprints including 1r black and blue used showing dropped 'R' (SG.O12a var, cat. £250 for normal), etc. A most interesting collection with further discoveries to be made.
803.050.020.022: The History of the Envelope. Illustrated Envelopes. In alphabetical order of addressee. The Countess of Mayo Correspondence
Estimate
700 – 900 GBP
Auction date
Fri 7 Jun 2019 at 15:00:00 (Europe/Zurich)
Sold for GBP 950
Please note that we are still working on adding images for the lots. If the lot you are interested in does not have images available yet, we invite you to check again in a few days.
If by May 20th 2019 you still cannot find the images you are looking for, please send us a message. Important: don't forget to mention the lot number(s).
Thank you for your understanding.