Lot 90049 – Great Britain » 1855-1900 Surface Printed » 1880-81 Provisional Issue and 1881 1d Lilac
1880 5d Indigo pl.1. imprimatur line perf 14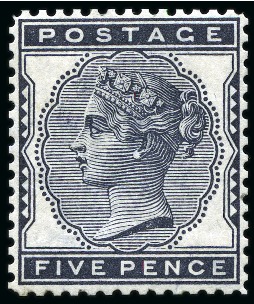 1880 5d Indigo pl.1. imprimatur line perf 14., taken from the "Before and After the Stamp Committee" De La Rue presentation book, large part og, very fine and rare, with only 36 presentation books produced (SG £3'750)
SG 169 var
1880 5d Indigo Pl.1. Very fine unused large part o.g. imprimatur, line perforated 14 from the De La Rue "Before and After the Stamp Comittee" presentation book. Very rare, only 36 presentation books were produced many of which are not believed to have survived.
Estimate
750 – 1'000 GBP
Auction date
Thu 21 Feb 2019 at 14:00:00 (Europe/Zurich)
Prices realised to be published
Please note that we are still working on adding images for the lots. If the lot you are interested in does not have images available yet, we invite you to check again in a few days.
If by May 20th 2019 you still cannot find the images you are looking for, please send us a message. Important: don't forget to mention the lot number(s).
Thank you for your understanding.