Lot 90043 – Egypt » 1922-1936 King Fouad I Definitives
1923-24 King Fouad group of 21 imperfs to 200m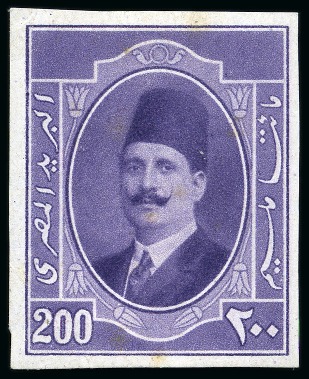 1923-24 King Fouad group of 21 imperf bearing all the values from 1m to 200m (200m with crease and tone spots), mixed lot.
Estimate
360 EUR
Auction date
Fri 26 Oct 2018 at 15:00:00 (Europe/Zurich)
Sold for EUR 360
If you have a strong interest in a specific lot and would like more information or further scans, click the below button and send us a message. Important: don't forget to mention the lot number(s).