Lot 30174 –
1862 Provisionals 2 cent yellow vertical strip of four, tied to entire from Plantation Reliance to Georgetown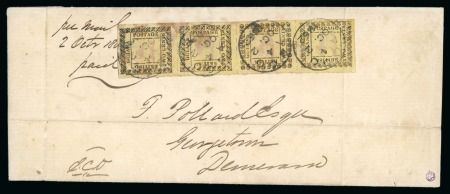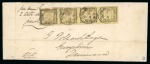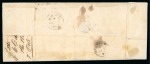 Lot 30174
British Guiana » Later Issues » 1862 Type-set Provisional Issue (SG 116-124)
Price realised
13'000 GBP
Estimate
8'000 – 12'000 GBP
Auction date
Thu 14 Oct 2021 at 15:00 (Europe/Zurich)
Description:
THE "FERRARY" & "BURRUS" COVER
THE MOST IMPORTANT ITEM OF THE ISSUE
1862 Provisionals 2 cent yellow, vertical strip of four from the right edge of the sheet, types A+A+B+C, positions 6/12/18/24, signed, including the prominent varieties "vertical bar before POSTAGE" (pos. 12) and "PCSTAGE" (pos. 24), tied to entire from Plantation Reliance to Georgetown by coded "A-4-C" cancels dated 2 October 1862, same day Demerara bs, stains from affixing paste of no significance in this showpiece.
This issue is of extreme rarity on cover, this representing not only the most significant cover, but also the most important item of this issue; it shows all three setting types and two key varieties.
Provenance:
Philipp von Ferrary (Lot 266, Sale II, October 1921),
Maurice Burrus (Lot 142, Robson Lowe, November 1963),
Lars Amundsen (Lot 97, Stanley Gibbons, December 1967),
John E. du Pont (Lot 60089, David Feldman SA, June 2014)
Catalogue reference:
SG 121, 120, 119