Lot 30173 –
1862 Provisionals 1 cent rose in complete imperforate sheet of 24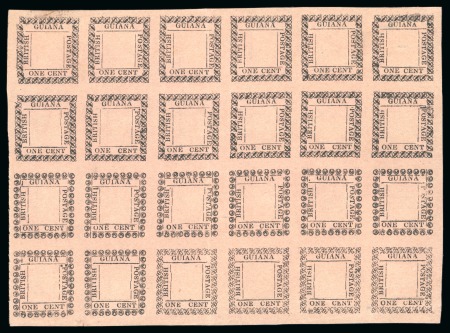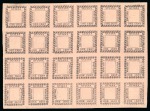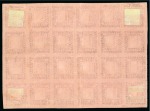 Lot 30173 –
1862 Provisionals 1 cent rose in complete imperforate sheet of 24
British Guiana » Later Issues » 1862 Type-set Provisional Issue (SG 116-124)
Price realised
10'000 GBP
Estimate
3'000 – 5'000 GBP
Auction date
Thu 14 Oct 2021 at 15:00 (Europe/Zurich)
1862 Provisionals 1 cent rose in complete imperforate sheet of 24 showing, unsigned, featuring twelve types A in the two upper horizontal rows, the third row made up of type B only, the fourth row with the two first positions type B, the rest our positions being type C, mint o.g., with varieties "1" for "I", wrong ornament, "C" for "O", narrow "T", etc. (each position can be further plated by errors of border elements or the letter typography), two minor mount thins and minor creasing, otherwise a fresh and rare exhibition item showing the three setting types; (SG £20'000+).
Provenance: John E. du Pont (Lot 60100, David Feldman SA, June 2014)
Please note that we are still working on adding images for the lots. If the lot you are interested in does not have images available yet, we invite you to check again in a few days.
If you still cannot find the images you are looking for in a few days, please send us a message. Important: don't forget to mention the lot number(s).
Thank you for your understanding.