Lot 30097 –
1853-55 Waterlow lithographed 4 cents deep blue (2) and blue (1) retouched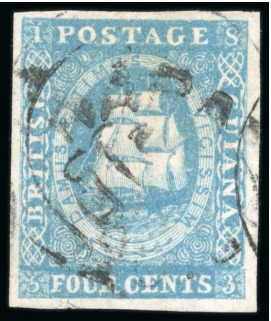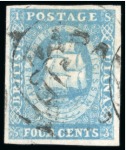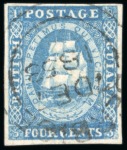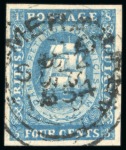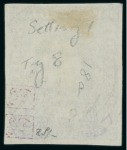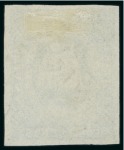 Lot 30097 –
1853-55 Waterlow lithographed 4 cents deep blue (2) and blue (1) retouched
British Guiana » 1853 Waterlow Lithographs (SG 11-21)
Auction date
Thu 14 Oct 2021 at 15:00 (Europe/Zurich)
1853-55 Waterlow lithographed 4 cents deep blue (2) and blue (1), three singles displaying the retouch featuring "coloured line over the denomination", good to mostly large even margins, showing cds's of Demerara (2) and Berbice; a very fine, scarce and desirable trio; (SG £4'200).
Provenance:
F. de Coppet (1893)
John E. du Pont
Please note that we are still working on adding images for the lots. If the lot you are interested in does not have images available yet, we invite you to check again in a few days.
If you still cannot find the images you are looking for in a few days, please send us a message. Important: don't forget to mention the lot number(s).
Thank you for your understanding.