Lot 30095 –
1853-55 Waterlow lithographed 4 cent first stone, the only retouched pair in private hands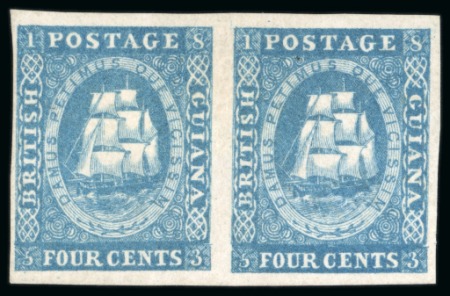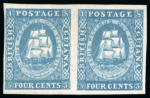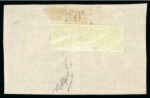 Lot 30095
British Guiana » 1853 Waterlow Lithographs (SG 11-21)
Price realised
10'000 GBP
Estimate
6'000 – 8'000 GBP
Auction date
Thu 14 Oct 2021 at 15:00 (Europe/Zurich)
Description:
THE ONLY UNUSED RETOUCHED TYPE MULTIPLE KNOWN
1853-55 Waterlow lithographed 4 cent deep blue, first stone, an extraordinary pair with both stamps displaying the retouch (coloured line over the denomination), with good to large margins for the most part, left stamp with vertical bend, the other being extremely fine, very fresh and appealing; (SG £22'000+).
The only multiple recorded in private hands featuring the retouch, an extraordinary conjunction of this variety in a pair. According to Townsend & Howe, "there is a pair on cover in the Royal Collection with both stamps retouched". As an unused multiple, the present example is unique.
Provenance:
Dale-Lichtenstein (Lot 443, H.R. Harmer, February 1969, "dark blue – extremely fine", bought by Stanley Gibbons for US$750)
John E. du Pont (Lot 60066, David Feldman SA, June 2014)
Expertise: Signed Bloch
Catalogue reference:
SG 18a