Lot 30024 –
1850-51 8 cents black on blue-green, Townsend Type C, faint initials "JBS", thin frame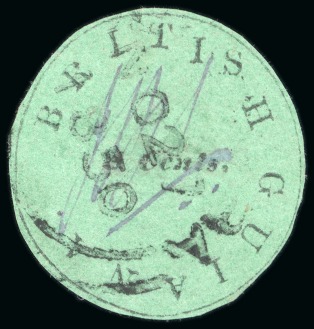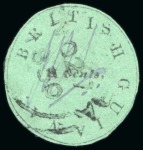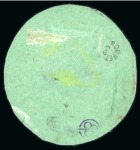 Lot 30024 –
1850-51 8 cents black on blue-green, Townsend Type C, faint initials "JBS", thin frame
British Guiana » 1850 Cotton-Reels (SG 1-8)
Estimate
1'500 – 2'000 GBP
Auction date
Thu 14 Oct 2021 at 15:00 (Europe/Zurich)
1850-51, 8 cents black on blue-green, Townsend Type C, exhibiting the rare initials "JBS" of J. B. Smith (Clerk to Imperial Branch), thin frame, cut round with full margins all around, this being a rare characteristic, used with Demerara datestamp of 27 November 1850, thinned although of little significance for this stamp, as most of the examples in existence have such fault, being of very fresh appearance and displaying a bright colour; very desirable and rare; (SG £16'000).
Provenance:
Philipp von Ferrary (Lot 185, Sale II, October 1921)
Expertise: Signed Roumet and Roger Calves
Please note that we are still working on adding images for the lots. If the lot you are interested in does not have images available yet, we invite you to check again in a few days.
If you still cannot find the images you are looking for in a few days, please send us a message. Important: don't forget to mention the lot number(s).
Thank you for your understanding.