Lot 30006 –
1879 Envelope sent from Georgetown franked Peace & Commerce 35c pair tied by octagonal "DEMERARI/5.DEC.79/PAQ.C No.1" ds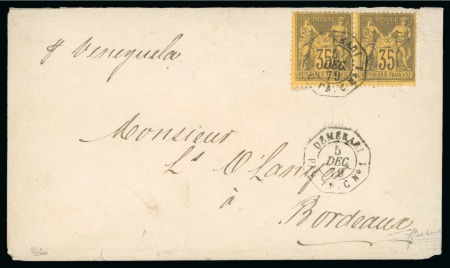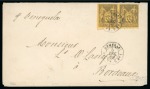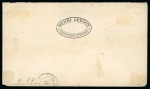 Lot 30006 –
1879 Envelope sent from Georgetown franked Peace & Commerce 35c pair tied by octagonal "DEMERARI/5.DEC.79/PAQ.C No.1" ds
British Guiana » Postal History
Estimate
1'000 – 1'500 GBP
Auction date
Thu 14 Oct 2021 at 15:00 (Europe/Zurich)
1879 Envelope sent from Georgetown via French packet "Venezuela" to Bordeaux, France, franked Peace & Commerce (type Sage) 35c pair, paying the double rate, tied by octagonal "DEMERARI/5.DEC.79/PAQ.C No.1" maritime ds, Bordeaux arrival bs; an important postal history rarity with this maritime marking with only five items recorded; (Salles fig. 1531a, rated 'RR').
Provenance:
"François" collection, Sale no.3, important French postal history sales (ms notation on reverse)
T. V. Roberts
John E. du Pont
Expertise: Signed Calves and Goebel
Please note that we are still working on adding images for the lots. If the lot you are interested in does not have images available yet, we invite you to check again in a few days.
If you still cannot find the images you are looking for in a few days, please send us a message. Important: don't forget to mention the lot number(s).
Thank you for your understanding.