Lot 30004 –
1850 Folded entire to France showing markings of all three Guianas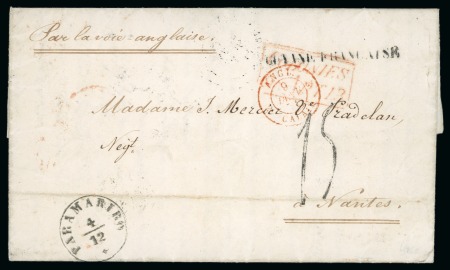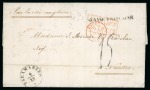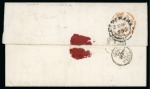 Lot 30004 –
1850 Folded entire to France showing markings of all three Guianas
British Guiana » Postal History
Auction date
Thu 14 Oct 2021 at 15:00 (Europe/Zurich)
1850 Folded entire to France showing markings of all three Guianas: "GUYANE FRANCAISE" from Cayenne in French Guiana, transit of "PARAMARIBO" in Dutch Guiana, and 9 December 1850 "DEMERARA" of British Guiana, sent by Royal Mail service and with "ART 13" accounting hs on face, charged 15 decimes in France on arrival; very rare and unusual, mentioned in Townsend and Howe on pages 202-203 and stated that only two such covers are known.
Provenance: John E. du Pont (Lot 60122, David Feldman SA, June 2014)
Please note that we are still working on adding images for the lots. If the lot you are interested in does not have images available yet, we invite you to check again in a few days.
If you still cannot find the images you are looking for in a few days, please send us a message. Important: don't forget to mention the lot number(s).
Thank you for your understanding.