Lot 10083 –
1pi vermilion, mint and mint nh top right foliated corner sheet marginal IMPERFORATE block of twenty-five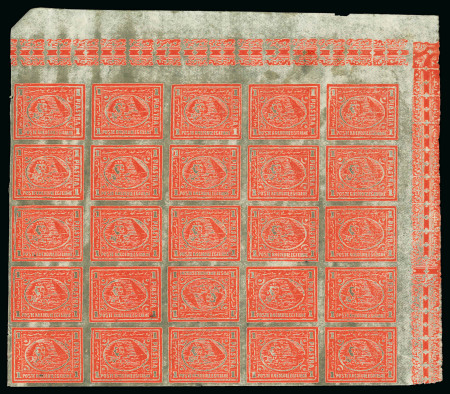 Lot 10083 –
1pi vermilion, mint and mint nh top right foliated corner sheet marginal IMPERFORATE block of twenty-five
Egypt » 1874 Bulaq
Auction date
Mon 13 Jun 2022 at 15:00 (Europe/Zurich)
1pi vermilion, mint and mint nh top right foliated corner sheet marginal IMPERFORATE block of twenty-five, position 48 shows the inverted cliché resulting in a TÊTE-BÊCHE pair, fresh, very fine and an outstanding showpiece.
The largest known imperforate block with a tête-bêche.
Provenance: The Royal Collection.
Please note that we are still working on adding images for the lots. If the lot you are interested in does not have images available yet, we invite you to check again in a few days.
If you still cannot find the images you are looking for in a few days, please send us a message. Important: don't forget to mention the lot number(s).
Thank you for your understanding.