Lot 10072 –
20pa slate gray and 1pi scarlet, tied on envelope from Cairo, cancelled after departure "Dopo la Partenza"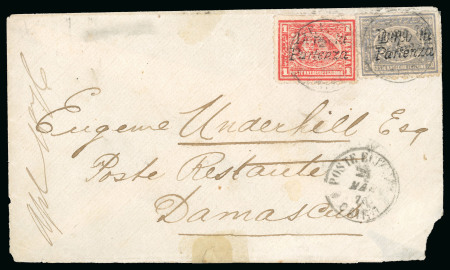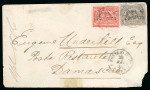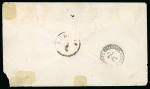 Lot 10072 –
20pa slate gray and 1pi scarlet, tied on envelope from Cairo, cancelled after departure "Dopo la Partenza"
Egypt » 1874 Bulaq
Auction date
Mon 13 Jun 2022 at 15:00 (Europe/Zurich)
20pa slate gray and 1pi scarlet, tied on envelope from Cairo via Port Said and Beirut, to Damascus, Syria, by POSTE EGIZIANE / CAIRO / 29.MAR.1876 cds with similar alongside, with similar alongside, plus cancelled after departure with "Dopo la Partenza" hs, corner cover fault, a very scarce usage.
Note: Dopo la Partenza marking was used to explain a delay with no fee being involved.
Please note that we are still working on adding images for the lots. If the lot you are interested in does not have images available yet, we invite you to check again in a few days.
If you still cannot find the images you are looking for in a few days, please send us a message. Important: don't forget to mention the lot number(s).
Thank you for your understanding.