Lot 10055 –
5pa brown, perf. 12 1/2, single neatly tied by POSTE EGIZIANE/CAIRO/23.AGO.76 cds on "LE DROIT" newspaper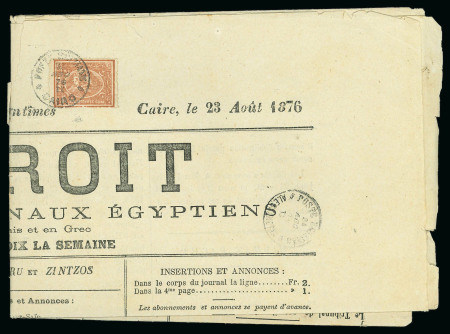 Lot 10055
Egypt » 1874 Bulaq
Auction date
Mon 13 Jun 2022 at 15:00 (Europe/Zurich)
Description:
5pa brown, perf. 12 1/2, single neatly tied by POSTE EGIZIANE/CAIRO/23.AGO.76 cds on "LE DROIT" newspaper, with Alexandria arrival bs alongside, a very fine printed matter usage paying the single local newspaper rate, a very rare usage.
Only two examples used on newspaper are believed known.
Provenance: Peter Smith.