Lot 10049 –
The Famous Ferrary Tete-Beche Pair: 5pi yellow-green, perf. 12 1/2 x 13 1/3, mint vertical TÊTE-BÊCHE pair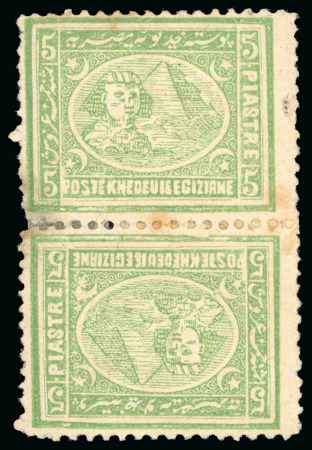 Lot 10049 –
The Famous Ferrary Tete-Beche Pair: 5pi yellow-green, perf. 12 1/2 x 13 1/3, mint vertical TÊTE-BÊCHE pair
Egypt » 1872-75 Penasson
Price realised
17'000 EUR
Auction date
Mon 13 Jun 2022 at 13:00 (UTC)
Description
The Famous Ferrary Tête-bêche Pair
5pi yellow-green, perf. 12 1/2 x 13 1/3, mint vertical TÊTE-BÊCHE pair from position 87/97, with position 97 being the inverted cliché which additionally shows an inverted wmk and damaged frameline at bottom, a unique error.
One of the greatest Egyptian rarities.
Provenance: Ferrary, Chafter, Kuyas and Peter Smith.
Please note that we are still working on adding images for the lots. If the lot you are interested in does not have images available yet, we invite you to check again in a few days.
If you still cannot find the images you are looking for in a few days, please send us a message. Important: don't forget to mention the lot number(s).
Thank you for your understanding.