Lot 10015 –
1874 Essay of Carlo Borani and Bernardi Wagner & Co: Presentation sheet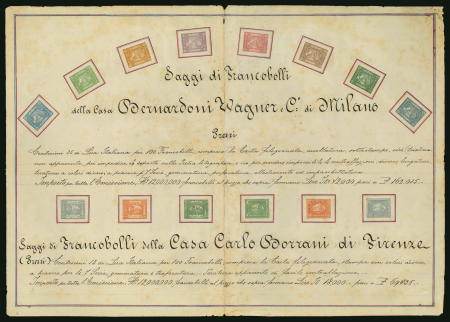 Lot 10015
Egypt » 1864-1906 Essays
Auction date
Mon 13 Jun 2022 at 15:00 (Europe/Zurich)
Description:
1874 Essay of Carlo Borani and Bernardi Wagner & Co: Presentation sheet showing top part with Carlo Borani essays comprising of three 20pa Sphinx at left of Pyramids and three 1pi Sphinx at right of Pyramids; the lower part with Bernardoni Wagner essays comprising eight 20 paras Sphinx in front of three Pyramids, all essays in an array of colours, mounted on large official document with price details.
An extraordinary and unique essays sheet.
Provenance: The Royal Collection.
Catalogue reference:
E57-E59