Lot 20044 –
Postal Notice: 1873 (1.1) Postal Notice headed "Administrazione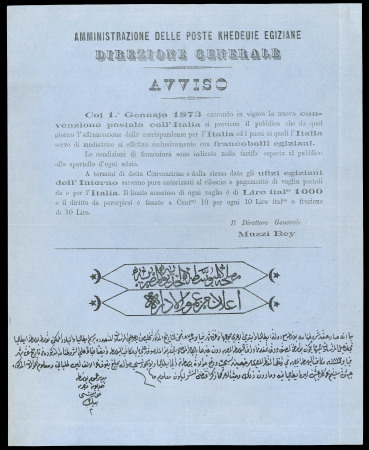 Lot 20044 –
Postal Notice: 1873 (1.1) Postal Notice headed "Administrazione
Egypt » 1872-75 Penasson
Auction date
Mon 5 Dec 2022 at 16:00 (Europe/Zurich)
Postal Notice: 1873 (1.1) Postal Notice headed "Administrazione Delle Poste Khedivie Egiziane / Aviso" printed in Italian and Arabic stating that, from January 1st 1873, due to a new Postal Convention being signed with Italy, that "francobolli egiziani" would alone be necessary, signed Muzzi Bey, Director General, an important historical item and showpiece.
Provenance: Peter Smith
Please note that we are still working on adding images for the lots. If the lot you are interested in does not have images available yet, we invite you to check again in a few days.
If you still cannot find the images you are looking for in a few days, please send us a message. Important: don't forget to mention the lot number(s).
Thank you for your understanding.