Lot 10012 –
120m. booklet: 5m rose-carmine, single from a booklet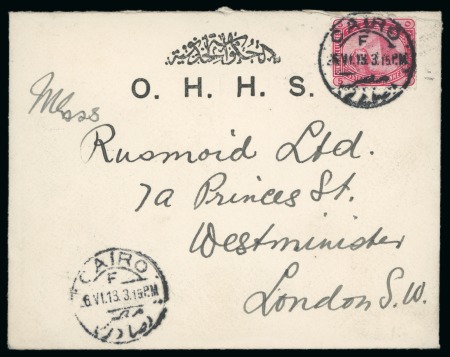 Lot 10012 –
120m. booklet: 5m rose-carmine, single from a booklet
Egypt » Booklets » The Fourth Issue – De La Rue (Nile Post SB1 to SB3)
Auction date
Mon 13 Dec 2021 at 16:00 (Europe/Zurich)
120m. booklet: 5m rose-carmine, single from a booklet pane, tied by CAIRO cds on 1913 (26.6) small neat O.H.H.S. envelope to London, very fine and a very rare booklet stamp usage.
Please note that we are still working on adding images for the lots. If the lot you are interested in does not have images available yet, we invite you to check again in a few days.
If you still cannot find the images you are looking for in a few days, please send us a message. Important: don't forget to mention the lot number(s).
Thank you for your understanding.