Lot 40205 –
1852, 5 baj. strip of 5 tied by "ROMA 25 GEN 63" cds on cover to Genova
Lot 40205 –
1852, 5 baj. strip of 5 tied by "ROMA 25 GEN 63" cds on cover to Genova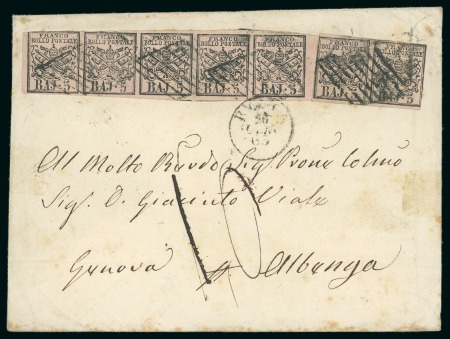 Lot 40205 –
1852, 5 baj. strip of 5 tied by "ROMA 25 GEN 63" cds on cover to Genova
Italian States » Papal States
Auction date
Wed 15 Dec 2021 at 09:00 (Europe/Zurich)
1852, 5 baj. strip of 5, only first stamp with touched margins, the others very fine and pair with touched margins, tied by "ROMA 25 GEN 63" cds on cover to Genova, Sardinia with Albenga transit backstamp and 10 decime postage due. A spectacular multiple rate cover (Strip of five is priced in Sassone at €3'250).
Please note that we are still working on adding images for the lots. If the lot you are interested in does not have images available yet, we invite you to check again in a few days.
If you still cannot find the images you are looking for in a few days, please send us a message. Important: don't forget to mention the lot number(s).
Thank you for your understanding.