Lot 10000 – St. Vincent
Essay in pen and ink of the Queen´s head in solid black oval surround, executed on thick card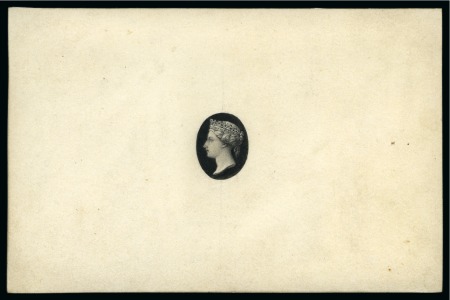 Essay in pen and ink of the Queen´s head in solid black oval surround, executed on thick card (120x79mm.), a wonderful and most delightful piece of artwork, showpiece for the connoisseur
Note: Early in 1860 Perkins, Bacon & Co. commissioned a new Queen Victoria head for use on postage stamps. This was engraved for the firm by Charles H. Jeens, who prepared a pen-drawn miniature for the purpose. His account of £2/12/6d. for the drawing was dated April 1860. Used for St. Vincent, St. Lucia and the South Australia 9d.
Provenance: R.B. Yardley Dr. Stone, Peter Jaffé
Estimate
4'000 – 6'000 GBP
Auction date
Tue 30 Jun 2020 at 10:00:00 (Europe/Zurich)
Time left

80d 11h 41m 54s


before pre-bidding ends

Please log in once in order to place bids or buy lots.