Lot 1010 –
POSTAGE DUES: 1895 15c Rose-Red mint og block of 40 comprising lower four rows of sheet, all show the "a" of "Postage" omitted variety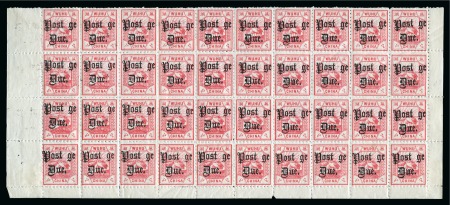 Lot 1010 –
POSTAGE DUES: 1895 15c Rose-Red mint og block of 40 comprising lower four rows of sheet, all show the "a" of "Postage" omitted variety
China » Local Post » Wuhu
Auction date
Tue 1 Sep 2020 at 10:00 (Europe/Zurich)
Postage Dues: 1895 15c rose-red mint og block of 40 comprising lower four rows of sheet, all show the "a" of "Postage" omitted variety, some creasing and a few hinge remainders but very fresh and a great Local Post rarity; Dougan's handbook reported a half sheet of fifty as the only other recorded multiple.
Note: It is believed that all the stamps from the first overprint setting on this value showed this variety, however these were soon noticed and most were withdrawn by the post office and destroyed, a corrected setting without the variety then being produced.
Please note that we are still working on adding images for the lots. If the lot you are interested in does not have images available yet, we invite you to check again in a few days.
If you still cannot find the images you are looking for in a few days, please send us a message. Important: don't forget to mention the lot number(s).
Thank you for your understanding.