Lot 40541 –
5c vert, 10c brun rouge et 25c bleu sur enveloppe-lettre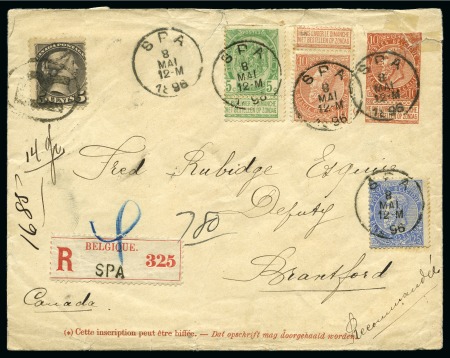 Lot 40541 –
5c vert, 10c brun rouge et 25c bleu sur enveloppe-lettre
Belgium » Belgique. 1893-1900 Armoiries du Royaume et Léopold II fine barbe – Émission
Auction date
Wed 11 Dec 2019 at 13:30 (Europe/Zurich)
5c vert, 10c brun rouge et 25c bleu sur enveloppe-lettre 10c en recommandé de SPA/8/MAI/1896 pour Brantfort (Canada), affranchie avec un 5c gris canadien annulé "R". (taxe territoriale ?). Seule pièce vue.
Please note that we are still working on adding images for the lots. If the lot you are interested in does not have images available yet, we invite you to check again in a few days.
If you still cannot find the images you are looking for in a few days, please send us a message. Important: don't forget to mention the lot number(s).
Thank you for your understanding.